Recently ALM Legal Intelligence released its 2015 report on law firm pricing professionals [see POST HERE]. It is the industry's leading study on the people who are building this nascent niche.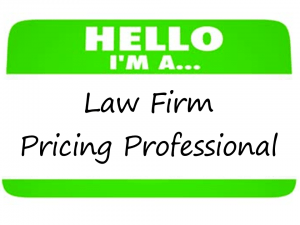 Contained within the survey's far-reaching questionnaire are a number of questions that focus directly on the pricer and his role at the law firm. Isolating those questions provides a fascinating glimpse into an "average" law firm pricing professional.
The Profile
According to the 2015 Pricing Officers report, the "average" law firm pricing professional has the following characteristics:
I am…most often known as Director of Pricing & Project Management.
I am…working in a 500-1,000 attorney law firm and have been for at least five years.
I am…considered a member of the firm's Senior Leadership.
I am…a member of the Finance Department, reporting to the CFO.
I am…the leader of a team of 2-5 direct reports.
I am…focused on alternative fee arrangements (AFAs).
I am…responsible for many function; my top five (in order) are Profitability Analysis, RFPs, Budgeting, Client Fee Discussions, Pricing Training.
I am…earning above $200,000, including salary and bonus.
Based on these characteristics, it is clear law firm pricing remains a BigLaw experiment. From my perspective, it is a highly successful experiment. However, until there is broad industry adoption of law firm pricing professionals, I am not naïve enough to proclaim a victory in this revolution. The legal pricing evolution has momentum, and that is what counts.